Bertoncello "Zeus" Continuous Casting Machines
G.B. F.LLI Bertoncello S.R.L's 'Zeus' Vertical Induction Continuous Casting Furnace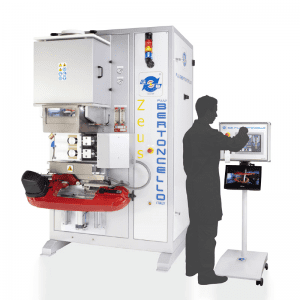 The Bertoncello "Zeus" range of Vertical Continuous Casting machines features an oxygen-free melting chamber with gas saturation and an induction generator for independent programmable heating of the die. It also includes a laser detector to sense presence of various metals inside the die and homogenizes the metal to ensure an even mix. As the metal travels further down, a double primary cooling circuit cools the die which protects the profile by gas saturation (argon or nitrogen) inside the die. Additional cooling is achieved by direct water sprinkled on the profile exiting the die, from a water gathering tank made of stainless steel, complete with drainage. A Special sealing gasket shaped according to the profile section is used in order to avoid the leakage of water. An additional suction system is also used eliminate eventual steam.
The ground breaking feature of this Casting machine is a Moving Cutting System using a hacksaw following the profile as it exits the die and cuts the finished profiles as required. The profiles are clamped firmly by pneumatic vises to the cutting unit in order to prevent movement and ensure error free profiles. Safety detectors control the maximum length of the profile.
For ease of operation the following are provided :
Latest generation PLC and color touch screen.
Video camera with color display for remote supervision of the profile exiting the die.
Provision for 100 memories of melting settings which can be printed at any time.
Printer for data and recipes.